Rays Lian Li PC7077 at Nethands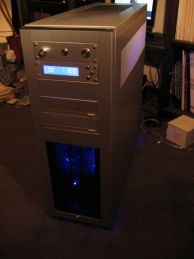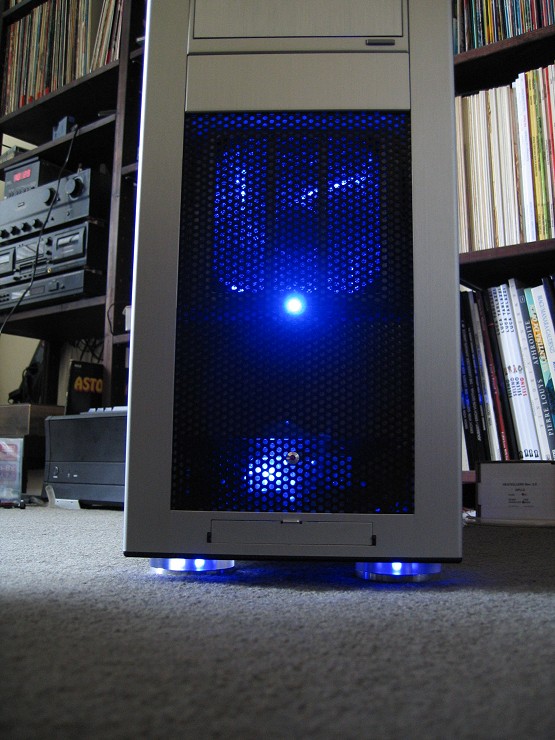 Case
Lian Li PC7077
2 mm Alu Profile
2 and 4 mm Bastlerglas
0,8 mm and 1,0 mm Lochblech
Hardware
DFI Lanparty NF4 Ultra-D
AMD Opteron 170 DualCore (Denmark/Toledo, 2 x 1 MB L2 Cache)
2 x 1024 MB OC-Wear Goliath Ultra PC4000
Sapphire ATI X1900XTX
Soundblaster Audigy2 ZS
2 x Hitachi HDT722516DLA380 160 GB SATA-II
1 x Toshiba SD-1912 16xDVD/48xCD IDE
1 x Plextor PlexWriter PX-740A
be quiet! Dark Power Pro 600W NT
Aquacomputer Aquaero 4.0


Watercooling
Alphacool NexXxoS XP with Zern Holder
EK Water Block FCX1800/1900/Crossfire - ATI
DFI Lanparty Chipset Freezer

SILENTstar HD-Dual
Laing DDC-Ultra 12 with DDC-Case
Cape Coolplex 25 AB
Black ICE Xtreme III
Tygon R3603 11,2/8mm

Aircooling
6 x SilenX iXtrema 120 Blue:
Front, Rear, 3 x Radiator, Mobo Power MOSFETs
06-05-2006
CPU AMD Opteron 170 DualCore and 2 x 1024 MB OC-Wear Goliath Ultra PC4000
Additional MOSFET cooling via FAN.



14-05-2006

20-05-2006
Power MOSFET water cooling test showed bad results (over 60° C) for PWM temps.
Now heatsinks are back on the MOSFETs, cooled with an extra FAN. PWM temps now 51° C max!









Replaced original feets by ALU-Acryl feets ;-).









Starting stress test with two instances of Prime95 64Bit 24.14
under Windows XP64 at about 22:00 and running for 16 hours:




SiSoftware Sandra Lite 2005.SR3:



Overclocking XT1900XTX GPU/MEM 650/775 MHz to 700/850 MHz:

3DMark 01: 34809
3DMark 03: 20701

3DMark 05: 12797

3DMark 06: 6542

Aquamark3: 106163